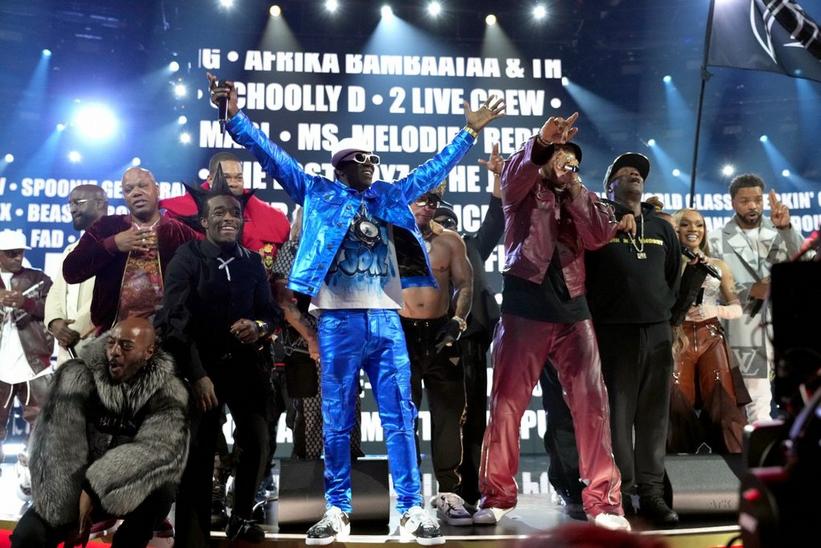 LL Cool J, Flavor Flav, Busta Rhymes, Lil Uzi Vert, Nelly, Spliff Star, Queen Latifah, Ice-T, Chuck D, Joseph Simmons, Darryl McDaniels, Grandmaster Flash, and Black Thought at the 2023 GRAMMYs
Photo: Kevin Mazur/Getty Images for the Recording Academy
list
How Hip-Hop Took Over The 2023 GRAMMYs, From The Golden Anniversary To 'God Did'
It's the 50th anniversary of hip-hop, but the 2023 GRAMMYs celebrations didn't stop at the epic, MC-saturated blowout. Here are five ways the genre took over Music's Biggest Night.
GRAMMYs
/
Feb 6, 2023 - 10:06 pm
The 2023 GRAMMYs' ambitious, world-beating tribute to hip-hop's 50th anniversary is getting a lot of ink — for a very good reason.
Featuring an ensemble ranging from progenitors like Grandmaster Flash and Run-DMC, to legends such as Too Short and Missy Elliott, and modern-day practitioners like Lil Baby, GloRilla and Lil Uzi Vert, the tribute segment was stunning not only on a logistical level, but on conceptual, emotional and historical planes.
But the Recording Academy's tribute to this landmark in time wasn't siphoned off to that 15-minute segment — not even close. In fact, the entirety of Music's Biggest Night radiated with the courageous, intrepid, forward-thinking spirit of hip-hop.
The tribute performance was just one of many nods to rap during GRAMMY week. Days before, Lil Wayne, Missy Elliott and Dr. Dre were honored by the Recording Academy's Black Music Collective in a ceremony that contained performances by Snoop Dogg, 2 Chainz and Ciara. And the pre-GRAMMY gala featured a performance from Weezy, Latto and Lil Baby.
At Music's Biggest Night, the hip-hop love roared fully to life. Here are five ways hip-hop took over the 2023 GRAMMYs, a foreshadowing of an entire year in celebration of the epochal artform — with the extended hip-hop tribute as a springboard.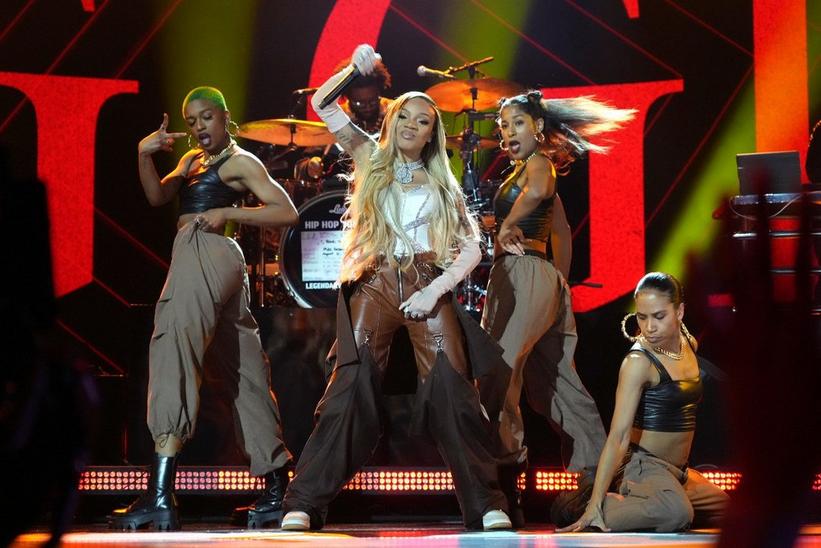 GloRilla performing at the 2023 GRAMMYs. Photo: Getty Images for the Recording Academy
A Global Hip-Hop Rager For The Ages
Until Music's Biggest Night, to fit hip-hop's evolution and essence into 15 minutes would seem logistically untenable. But the Academy did the impossible.
The Questlove-curated set moved lightning-quick from '70s and '80s pioneers, to 2000s radio dominators like Nelly, all the way to the current era.
Like with the last Super Bowl's ensemble cast of rap greats, the result was emotionally walloping, historically edifying and visually spectacular.
Most importantly, the music was exceptional — a tip of the hat to a precious form of American expression. To anyone who still subscribes to some form of stigma — you don't know what you're missing.
The Rap Categories Contained Serious Jewels
Let's take a step back, though, and examine the 2023 GRAMMYs' hip-hop nominees and winners themselves.
Kendrick Lamar was well-represented in both the General and Rap fields, and commensurately for Mr. Morale and the Big Steppers and Lamar's non-album single "The Heart Pt. 5."
For the former, Lamar won Best Rap Album; for the latter, Best Rap Song and Best Rap Performance. With the success of "The Heart Pt. 5," he is now the most-awarded artist in the latter category.
Together, these offerings comprise something of a creative and emotional watershed for Lamar. As for Pusha T, It's Almost Dry — nominated for Best Rap Album — contained some of his most crystal-sharp coke raps to date.
Plus, the sheer range of guests on DJ Khaled's GOD DID — nominated for Best Rap Album — could be the ultimate testament to his indomitable spirit, curatorial acumen and infectious sense of largesse.
This also applies to fellow nominees from Future, who won Best Melodic Rap Performance for "WAIT FOR U," to Jack Harlow, who was nominated liberally throughout the Rap field.
Given the level of craft throughout, hip-hop isn't just ripe to be celebrated for its past, but for its boundless future.
Dr. Dre Was Presented With A Global Impact Award
At the 2023 GRAMMYs, seven-time GRAMMY winner Dr. Dre was the recipient of the inaugural Dr. Dre Global Impact Award for his multitude of achievements through his innovative, multi-decade career.
Dr. Dre was presented the award after a plethora of televised bona fides, and offered his thanks to the Recording Academy and Black Music Collective for the prestigious honor in light of the Recording Academy's celebration of the 50th anniversary of hip-hop.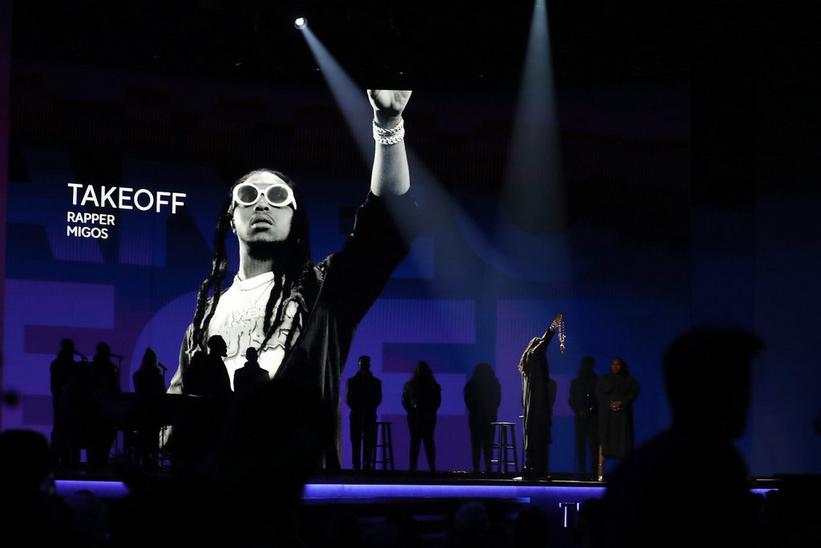 A tribute to Takeoff during the 2023 GRAMMYs. Photo: Getty Images for the Recording Academy
Quavo Performed A Moving Tribute To The Late Takeoff
There's a bittersweetness to celebrating hip-hop on a global scale in 2023, as so many of its best and brightest have died far too young in recent years.
Among these tragedies was the senseless death of Takeoff, one-third of the family-bound rap trio Migos, along with Offset and Quavo.
Read More: Remembering Takeoff: Why The Unassuming Rapper Was Foundational To Migos
As part of the In Memoriam segment, backed by worship ensemble Maverick City Music, Quavo honored his late nephew with a soul-searing version of "Without You."
"Tears rollin' down my eyes / Can't tell you how many times I cried," he rapped before an empty microphone stand, poignantly hung with Takeoff's chain. "Days ain't the same without you / I don't know if I'm the same without you."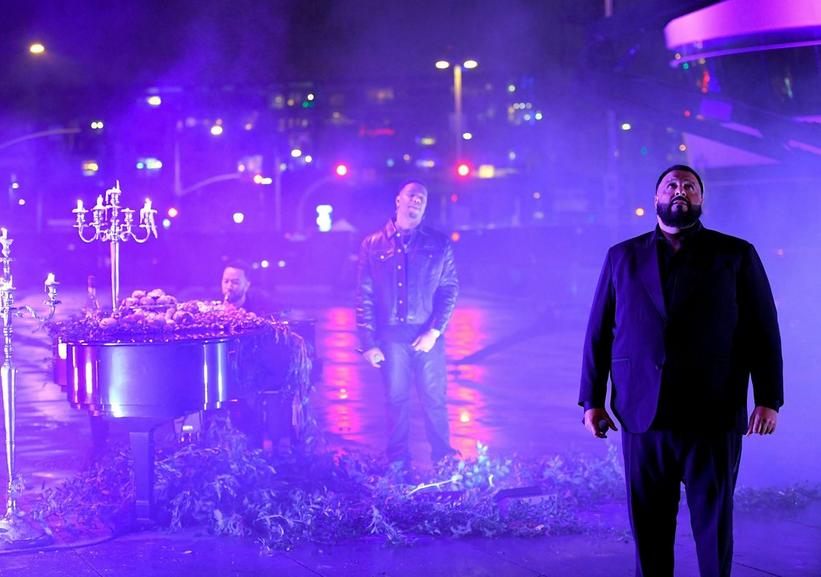 John Legend, Fridayy, and DJ Khaled performing at the 2023 GRAMMYs. Photo: Kevork Djansezian/Getty Images for The Recording Academy
DJ Khaled & Company Closed The Curtain With "GOD DID"
At the end of the ceremony, DJ Khaled brought out collaborators Jay-Z, John Legend, Lil Wayne, Fridayy, and Rick Ross for a rendition of GOD DID's title track, which was nominated for Song Of The Year, Best Rap Song and Best Rap Performance.
Seated horizontally in an opulent, Last Supper-esque tableau, the stars sang their hooks while bathed in purple light, closing out the 2023 GRAMMYs with laconic flair.
It was a fitting conclusion to Music's Biggest Night, one that placed hip-hop where it belongs: on the top shelf.
2023 GRAMMY Nominations: See The Complete Winners & Nominees List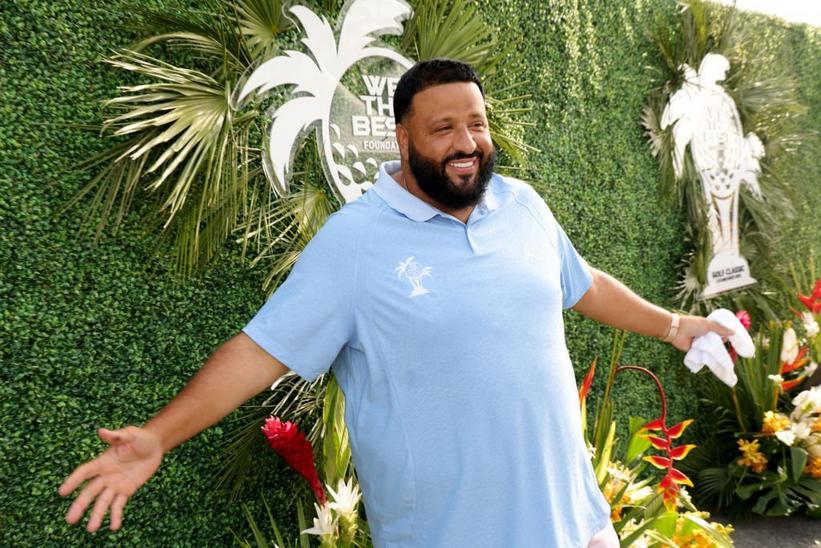 DJ Khaled
Photo: Kevin Mazur/Getty Images for We The Best Foundation
news
DJ Khaled Shares His Keys To Success With Young Professionals
Ahead of his next album, 'Til Next Time,' GRAMMY U caught up with DJ Khaled to talk about hip-hop's 50th anniversary and how young music-makers can follow in his footsteps.
GRAMMYs
/
Aug 30, 2023 - 07:39 pm
Hip-hop hit-maker DJ Khaled is doing what he does best: making music and inspiring others. Khaled has been in the game since the '90s, graduating from spinning vinyl in his garage to the GRAMMY stage. Today, the GRAMMY-winning producer and artist has a multitude of roles.
"I'm a father, I'm a producer, I'm a DJ, I'm a music executive, I'm an executive, I'm a young entrepreneur," Khaled told GRAMMY U National Representative Carlie Anderson. 
Khaled showed he is also a role model, taking time to speak with GRAMMY U following at an Aug. 16 event at Miami's Soho Beach House. There, Khaled was in conversation with Carl Lamarre, Billboard's Deputy Director of R&B and Hip-Hop.
The conversation wasn't exactly planned, but Khaled made sure to make the most of the opportunity to speak to the younger audience of GRAMMY U, even telling those around him to quiet down so that he could give his full attention to Anderson.  
Khaled reflected on the creation of his 2006 debut project Listennn…the Album, as well as the 50th anniversary of hip-hop. Like many artists and fans, Khaled believes hip-hop is more than just a genre of music: it's a lifestyle. 
"Hip-hop is not only everything to me, it is a force of greatness," Khaled tells Anderson. "Hip-hop changed my life, saved my life. I love hop-hop. I have to thank hip-hop for the blessings and inspiration, for the way hip-hop raised me."
Khaled recalled how he found hip-hop on his own and began to immerse himself in the world behind the music. Now, as a leading contributor to the culture, Khaled regularly reflects on how the culture made him who he is.
When it comes to being an inspiration to others, Khaled takes his position very seriously. His advice to young and emerging music-makers was simple: "Just be you.
"The world is yours," Khaled continued. "Being you is the most beautiful thing in the world."
After receiving five nominations at the 2023 GRAMMY Awards and performing at the show alongside Jay-Z, Lil Wayne, John Legend and Rick Ross, and, Khaled shows no signs of stopping. Earlier in August, he announced his 14th studio album, Til Next Time. The new project will be his first under the new partnership with Def Jam (in February, the rapper left Sony Music to join Universal Music Group). With this deal, Khaled was also named Global Creative Consultant for UMG.
The announcement of his album also came with a four-minute trailer, featuring his wife and two children. With comical moments from Khaled throughout, the video still steadies itself with the trademark motivational sentiments the producer is known for. 
"Success ain't easy," Khaled said in the trailer. "You gotta want it so bad that you're willing to put everything on the line, even if you gotta risk your own life." 
It's no surprise that Khaled has some big features planned for the album. The debut single, "Supposed to Be Loved," already spotlights frequent collaborator Lil Baby, as well as Future and Lil Uzi Vert, who is working with the musician for the first time. 
As a true master of collaborations, Khaled told GRAMMY U about how his partners are often also his inspirations. Dr. Dre, Puff Daddy, and Fat Joe sit high in his mind, as well as Jay-Z, who Khaled credits to having "shown us that anything and everything is possible" in this industry.
Khaled also gave love to his supporters for sticking by him in all his different endeavors. 
"My fans are my inspiration," Khaled says. "They keep me going and keep me doing what I love to do, making music and representing hip-hop." 
With Til Next Time and his other efforts,  Khaled strives to continue pushing hip-hop forward. This genre's milestone is the first of many in his mind: "Not only hip-hop 50, it's hip hop forever." 
11 Hip-Hop Subgenres To Know: From Jersey Club To G-Funk And Drill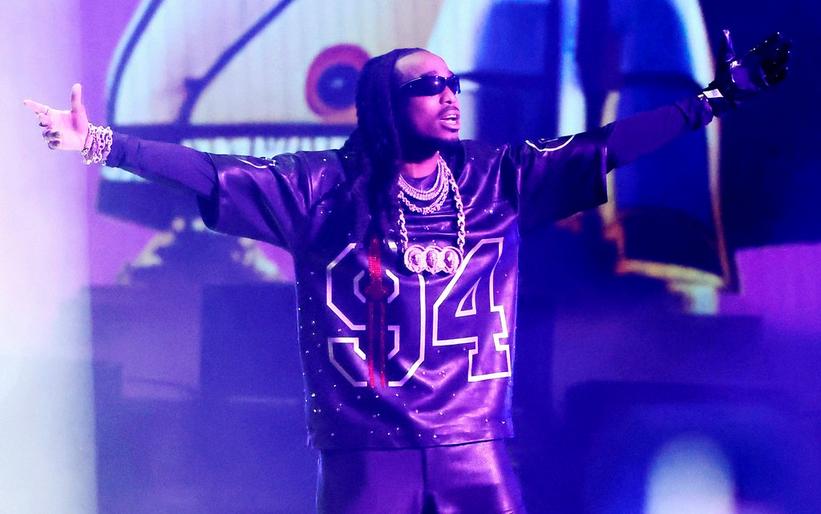 Quavo performs at the BET Awards in June 2023.
Photo: Kevin Winter/Getty Images
list
5 Takeaways From Quavo's New Album 'Rocket Power'
Five years after his first solo release, Quavo's 'Rocket Power' explores loss, faith, and memories of the artist's late nephew Takeoff — a poignant tribute that marks a new creative plane for the Georgia-born artist.
GRAMMYs
/
Aug 18, 2023 - 10:28 pm
Tragedy struck the hip-hop world in November 2022 when Migos star Takeoff was killed during an early morning shootout in Houston. Among the hardest hit by the loss was one-third of the famed trio and his uncle Quavo, who witnessed the shooting and sat by Takeoff's side as he passed outside a nearby bowling alley.
Since Takeoff's death, Quavo has largely stepped away from public view. He first resurfaced with an emotional tribute to his late nephew, "Without You," in January, sporadically releasing four more singles in subsequent months. But on Aug. 18, Quavo delivered his biggest tribute yet: the aptly titled album, Rocket Power, which explores the emotional scars that have formed nearly a year after Takeoff's passing. 
Arriving nearly five years after his debut solo album, 2018's Quavo Huncho, Rocket Power is a welcomed sign of Quavo's artistic maturation. The 32-year-old rapper melds his effortless melodicism and hit-making powers to create a cohesive body of work filled with soul-stirring jams and ear-catching trap bangers. 
To welcome Huncho's newest solo effort, we compiled five early takeaways from the 18-track project Rocket Power. 
The Album Honors Takeoff's Life From Childhood To The GRAMMY Stage
From the intro "Fueled Up" to the album's closing track, Rocket Power points to the life and legacy of Takeoff, who's featured on songs "Patty Cake" and "Back Where It Begins." On songs like "Hold Me," Quavo details the misery and emotional pain he and others have faced in the months following Takeoff's unexpected death: "I just need you to hold me/ Listen and feel my heart closely." Quavo also points to other instrumental figures in his life, asking them to come to his aid in moments of darkness.
On the title track, "Rocket Power," Quavo acknowledges the gut-wrenching thoughts and vulnerability he's experienced in this time of grief, and the toll it's placed on both him and his family. "Thinking about my nephew while I'm rolling some trees/ Mama said she's crying, and she's crying in her sleep."
While references to Takeoff's passing are sprinkled throughout the project, "Patty Cake" gifts Migos fans a welcomed look back at the two artist's influence and chemistry. And for many, hearing Taekoff's voice on the interlude "Narkedo Speaks" (which is pulled from a Drink Champs interview) reflects the kind of figure he was in rap: "I ain't even have a plan B, I made myself not have a plan B on purpose/Just so I can fulfill my plan A."
Limited Features Magnify Takeoff Tribute
Rocket Power only includes five features, a vast difference from Quavo's debut album, which boasted features on over half of its 19 tracks.
Among the artists featured on the project — which includes Future, Young Thug, Hunxho and BabyDrill — the most significant moments come from the artist the album honors. With Takeoff's presence on "Patty Cake" and "Back Where It Begins," the songs flash to his often understated talents and role as the Migos' lyrical foreman. It also points to how instrumental he was in Quavo's life, as the rapper touches on their past memories growing up in Lawrenceville, Georgia.
With fewer features, Quavo's vision for Rocket Power pierces through more vividly, and the project's more intimate and conceptualized moments reach their apex. While stars like Young Thug and Future elevate tracks like "Focused" and "Back Where It Begins," songs like "11.11" and "Not Done Yet" would lose much of its emotional fuel with another artist's presence.
Rumors Aside, Offset And Quavo's Relationship Appears To Be On The Upswing
It's hard to ignore Offset's absence on Rocket Power. He's not featured nor mentioned throughout much of the album, but "11.11" provided fans with some clarity on the status of their relationship.
Following the 2022 release of Quavo and Takeoff's collaborative album, Only Built For Infinity Links (which was released just weeks before Takeoff's passing), rumors about a falling out between Quavo and Offset emerged. The two first alleviated reports of their feud — including that they fought backstage at the 2023 GRAMMYs —  by reuniting for a performance at the 2023 BET Awards in June.
And nearly two months after their reunion, Quavo further suggests he and Offset are in a better place on "11.11": "5:30 Huncho and Set get up early, and go out and go get that bag together (Set)/ Who the f— gonna put us together, can't nobody put this s— back together/ So stay the f— out of the middle, lil fella/ We always goin' be that/ We fam forever (Migos)."
Quavo Leans Further Into His Faith
Throughout the album, Quavo points to his faith as a source of emotional strength and how it's tethered his family together in the wake of recent tragedy. On "Not Done Yet," the artist raps, "Giving it all I got, don't know what God got for me (God)/ Holding my head up high, I hope y'all really proud of me (High)."
While the "Lost" rapper has never shied away from his faith, Rocket Power is the most Quavo has ever melded it into his music. As much as it's a snapshot of his current mental state, the religious references point to the new creative plane Quavo is currently on.
Quavo Is A Legitimate Solo Star
Following Quavo Huncho, some hip-hop fans questioned Quavo's ability to carry an album as a solo artist. But if there were any doubts, drop them. He's unquestionably a star capable of carrying on his own.
While Quavo is credited for his infectious hooks and street hits, Rocket Power proves he can effectively draw from his life experiences and transfer those emotions to create gut-wrenching records. It also proves he can effectively pair these kinds of records together into a larger conceptual project, and expand his artistry beyond his melodic mastery.
Throughout the album, Quavo firmly commands each of the 18 tracks. He delivers a harmonious (and effective) mix of stadium-level anthems, emotion-fueled sentiments, and hard-hitting trap songs — proving that he'll not only continue the legacy he and Takeoff built together, but continue to evolve creatively on his own.
Hip-Hop Just Rang In 50 Years As A Genre. What Will Its Next 50 Years Look Like?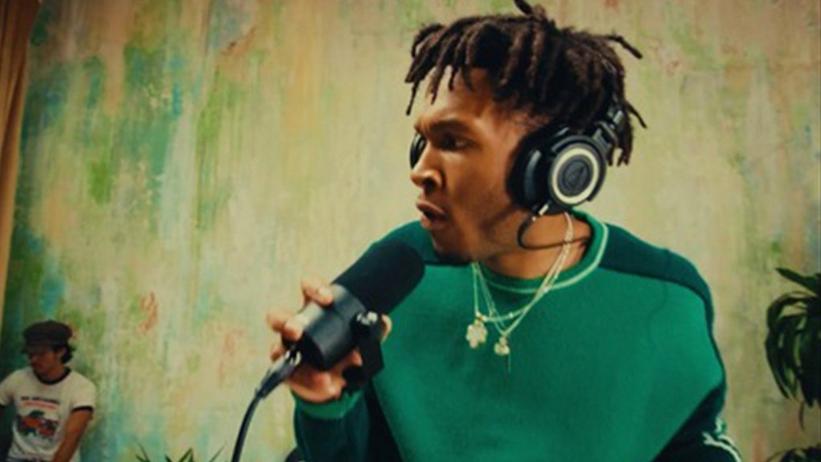 Asha Imuno
Photo: Courtesy of Asha Imuno
video
Hip-Hop Re:Defined: Watch Asha Imuno Personalize Kendrick Lamar's "i" With A Sparkling New Chorus
Rap newcomer Asha Imuno offers an upbeat cover of Kendrick Lamar's GRAMMY-winning hit "i," one of the many tracks that inspired the sound for Imuno's upcoming project, 'PINS & NEEDLES.'
GRAMMYs
/
Aug 16, 2023 - 05:02 pm
Growing up in Compton, California, Kendrick Lamar never thought he would see the day he was happy, confident and, most importantly, hopeful. But his lead single from 2015's To Pimp A Butterfly, "i," proves that reality wasn't so far-fetched — even when confronted with gun violence and police brutality.
In this episode of Hip-Hop Re:Defined, rap newcomer Asha Imuno delivers his rendition of "i," which won Lamar both Best Rap Performance and Best Rap Song at the 2015 GRAMMYs. Though the original track's groovy instrumental remains, Imuno adds a personal touch to his cover with a new chorus. 
"And I love myself/ The world is a ghetto with big guns and picket signs/ And I love myself/ But they can do what they want, whenever they want, I don't mind," he sings. "And I love myself/ He said I gotta get up, there's more to life than suicide."
Imuno is a longtime fan of Lamar, and according to a press statement, his upcoming album, PINS & NEEDLES, was heavily inspired by Lamar's To Pimp A Butterfly. On June 14, Imuno released the first single from the debut project, "PUSHING BUTTONS."
Press play on the video above to hear Asha Imuno's uplifting cover of Kendrick Lamar's "i," and check back to GRAMMY.com for more new episodes of Hip-Hop Re:Defined, a limited series celebrating hip-hop's 50th anniversary.
50 Artists Who Changed Rap: Jay-Z, The Notorious B.I.G., Dr. Dre, Nicki Minaj, Kendrick Lamar, Eminem & More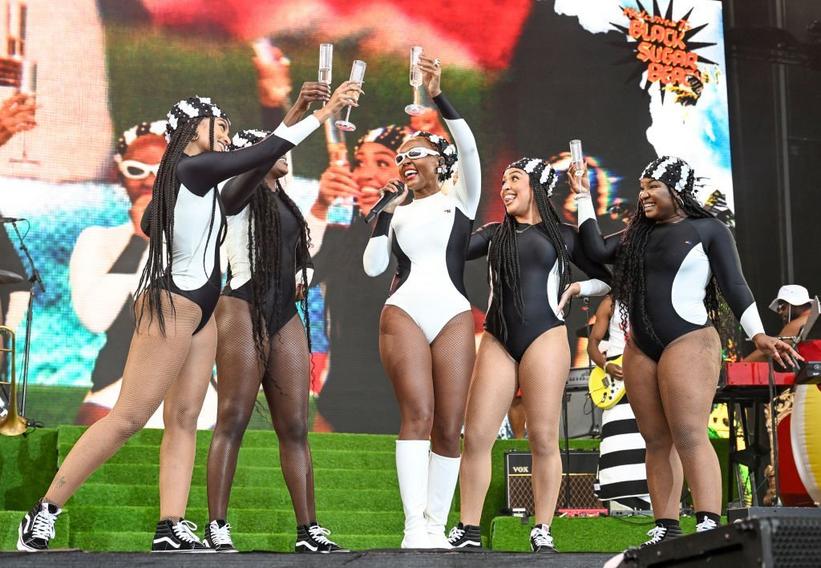 Janelle Monáe performs at the 2023 Outside Lands Festival
Photo: Steve Jennings/WireImage
list
7 Unforgettable Sets From Outside Lands 2023: Foo Fighters' Special Guests, Lana Del Rey's Return & A Superhero DJ Shaq
The 15th edition of San Francisco's foggy summer festival brought the musical heat — and lots of wild surprises.
GRAMMYs
/
Aug 15, 2023 - 01:57 pm
On Aug. 11-13, Outside Lands returned to San Francisco's Golden Gate Park for the 15th time. The city's premiere multi-day music and food festival attracted approximately 75,000 daily attendees, and promoter Another Planet says that about half of the 225,000 ticket holders live outside the Bay Area. 
Though it takes place in the peak of summer, San Francisco in August is relatively cold and nicknamed "Fogust," which may have shocked any of the out of towners who showed up in shorts and barely-there tops.
The mild weather conditions meant that the true heat was left up to the performers  to generate, and the more than 90 acts happily delivered. Below, we recount seven of the sets that were worth braving the summer cold to witness.
Shaq Takes Day One Championship
Moonlighting as DJ Diesel, NBA legend Shaquille O'Neal apologized for starting his incredibly surprising set a few minutes late.
"Sorry I'm late, I was just hanging with Steph Curry and Draymond Green," he said, name checking the Golden State Warriors' star players. He laced his banter with basketball metaphors and later brought out Warriors guard Gary Payton II to play Queen's "We Are The Champions" in the team's honor.
After dropping jaws by firing up aggressively, atonal EDM beats, he invited the crush of fans to come up on stage and "party with Diesel" one at a time. His set veered from Guns N Roses to Imogen Heap and he has to be the first DJ to call for a "ladies only mosh pit" while playing Aqua's "Barbie World." 
When he threw a young blonde boy on his shoulders and they both pumped their fists in unison, it was everything — and that's how a superhero DJs.
Janelle Monáe Celebrates The Fam
With a towering stack of Jamaican sound system-styled speakers, giant beach balls, a towel-waisted band and swimsuited dancers, Janelle Monáe brought the sexy "Black Sugar Beach" and "Lipstick Lover" vibes of her new album The Age of Pleasure to the Lands End main stage, which she last graced in 2018. 
Monáe has since come out as nonbinary and greatly expanded her fanbase; at Outside Lands, she dedicated her performance to "my community, the LGBTQIA+ community," saying, "I love you so much. To be Black, to be queer, to be nonbinary, to evolve and to have family like you is a blessing."
Monáe's natural charisma has only gotten sharper over time, and her dance moves are more infused with the quick steps of the Godfather of Soul James Brown and Prince. Her almost Rockettes-level line choreography with her dancers has leveled up as well.
This year's Outside Lands also saw the debut of the LGBTQIA+-centric Dolores' stage, which was powered all weekend by local party crews such as Hard French, Fake and Gay and Oasis. A highlight was Reparations, an all-Black drag show hosted by the incomparable Nicki Jizz, San Francisco's serial Drag Queen of the Year (according to local publication 48 Hills) who wore a large penis hat that she claimed was true to her actual size. The most overtly queer-friendly edition of Outside Lands was something beautiful to continue and build on in the future.
Kendrick Lamar Brings The Friday Night Light
Last seen rapping to a small but rapturous crowd on a secondary stage at Outside Lands in 2015, Kendrick Lamar has grown immeasurably as a recording artist and live performer. Lamar commanded the Lands End stage, closing the festival's first night with quietly assertive control and grace in a performance that felt like a rightful graduation. This veritable elder statesman slot has been previously held by major acts like Radiohead, Neil Young With Crazy Horse and Paul McCartney.
His 2022 album Mr. Morale & the Big Steppers featured prominently in the 21-song set, which included leftfield covers of Pusha T's "Nosetalgia" and The Weeknd's "Sidewalks." But Lamar knows that people still want to yell their lungs out to earlier cuts like "Swimming Pools (Drank)," "Bitch, Don't Kill My Vibe," "m.A.A.d city," "HUMBLE." and "Alright" and he obliged.
Lana Del Rey Swings Back To Twin Peaks
Flower crowns were all the rage when Lana Del Rey made her Outside Lands debut in 2016 at Twin Peaks, the festival's second largest stage. A new generation has since discovered the singer's outsize character and vibe, and as the gates opened on Saturday, giddy groups of teenage girls rushed to park themselves at the edge of that very same stage to catch Del Rey's big return to Golden Gate Park.
This time, Del Rey's set included a projection that said "God Bless You San Francisco" and a giant swing woven with flowers that flung her into the air while she sang. Her set spanned her classics, like "Video Games" from 2012's Born To Die, current hits, such as the title track from this year's album Did You Know That There's a Tunnel Under Ocean Blvd., and a loving cover of Tammy Wynette's 1968 country hit "Stand By Your Man." 
Though she's revered as an almost otherworldly figure and was an angelic vision in white, Del Rey doesn't act untouchable in 2023 — in fact, she literally came down and touched some of those fans who waited all day for her.
Foo Fighters Come Out Crooning
"We've gotta fit 28 years into two f—ing hours!" Dave Grohl explained early in the Foo Fighters' set. It was a towering goal that they tackled with consummate ease, reaching back to hits such as "Times Like These" and "The Pretender" and showing the continuum through to recent songs like "Rescue."
After playing a few choice riffs of "Enter Sandman," it would have been less of a surprise to see a member of two-time Outside Lands headliner (and Bay Area natives) Metallica join them on stage than who actually came out for a cameo. After flying in from Argentina, Michael Bublé initially pretended to be a regular audience member before going onstage to sing his hit "Haven't Met You Yet." 
The Foo-Bublé connection is fun and surprising: New drummer Josh Freese has also played for the Canadian crooner, and "Haven't Met You Yet" is part of a medley that the Foo Fighters are doing on tour that is comprised of other bands Freese has supported (including Devo's "Whip It" and Nine Inch Nails' "March of the Pigs").
Of course, the late drummer Taylor Hawkins will always be a prominent part of the Foo Fighters and their shows, and they played "Aurora" in his memory. As the park's Polo Field lit up in violet-colored lights, Grohl's 17-year-old daughter Violet Grohl also joined to sing three songs with her father, which he said was his absolute favorite thing in the world to do. 
"I'm sure I'm embarrassing her right now!" he said.
Gabriels Tributes Tina Turner
"We're California boys, but this is our first time in San Francisco," shared Gabriels singer Jacob Lusk before turning the Sutro stage into the Church of Outside Lands, and instructing everyone to share some neighborly love.
The Los Angeles band has some meteoric fans: Elton John invited Lusk, whose early resume includes being a former "American Idol" contestant who was in a gospel group with the late Nate Dogg, to sing with him on stage at this year's Glastonbury. Lusk's incredible vocal range flexes from baritone to falsetto on a dime, and he frequently takes a step back from the microphone while singing, as if not to overwhelm it.
In a particularly touching moment, Gabriels performed Tina Turner's "Private Dancer" while a montage of footage of Turner filled the screen.
Megan Thee Stallion Triumphs Over Tragedy
Fog flooded the park as a super snatched Megan Thee Stallion took to the stage in a hot Barbie pink outfit and long red hair, but she blazed through the haze with ground-sweeping twerking and saucy tracks like "Body," "Her," "WAP" and "Big Ole Freak." It was her first performance since Tory Lanez was sentenced to 10 years for shooting her, and she was feeling noticeably buoyant.
"F— all my haters!" she said in the middle of the set. "None of the s— you was doing or saying broke me." 
She received nothing but love from the crowd, and she was delighted by a big pocket of "boys" that she saw. Meg truly loves her "Hotties," and even stopped in between songs to sign someone's graduation cap. A recent grad herself, she is proud of her fans who follow suit.
"Real college girl s—!" she exclaimed.
7 Blazing Sets From Rolling Loud Miami 2023: Travis Scott, Sexyy Red, Rae Sremmurd & More